Invisalign is the modern teeth straightening system that no longer uses unsightly metal brackets stuck on your teeth. Instead, it is a discreet way to straighten the teeth with the use of clear aligners.
This is perfect for mild teeth misalignments or relapse from previous dental braces.
These invisible aligners are made from plastic or polyurethane resin and they are custom made to comfortably fit over your teeth. Imagine a sports mouthguard. That's how it looks and feels.
Because of its tight adaptation to your teeth, it is able to facilitate gradual and gentle movement to bring your teeth to their proper position.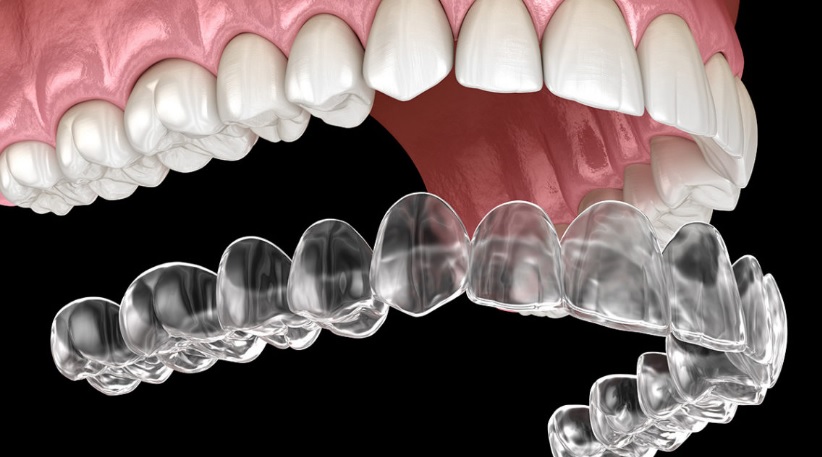 Depending on how crowded or gapped your teeth are, your dentist will prescribe you a number of Invisalign aligners. Each aligner will loosen as the teeth shift so a consecutive aligner will be sent to you to continue the process.
The entire process is incredibly convenient. And with proper treatment planning, it will work to safely and effectively straighten your teeth for a better smile. But the big question is how much is Invisalign?
Invisalign is not a cheap treatment. Invisalign cost Sydney can be around $6,500 – $9,500. So it is best that you do proficient research where to find a good Invisalign dentist that is reasonably affordable without compromising the quality of the process and result. 
Sydney Dental Veneers offers one of the most affordable dental clinics in Sydney that offers Invisalign. We are also a  proud Platinum Elite provider which means our Invisalign dentist is well-experienced, skilled, and knowledgeable in doing Invisalign treatments.
Our Sydney clinic Invisalign package costs $4,300 – $7,790. A far cheaper cost compared to other clinics. Our dentist will recommend the best package for you and this usually differs depending on the severity of your teeth alignment and the number of aligners you will need. This will also determine the estimated length of your treatment.
But, most of our patients fall under the moderate package and this includes up to 26 aligners and unlimited refinement aligners for 2 years. This Invisalign package costs $7,590.
To learn about the most suitable Invisalign package for you as well as our Invisalign specials, visit us today for a consultation! Our dentist Sydney will gladly walk you through the process of how we can help you achieve your smile goals.