Save up to 30% off Dental Crowns Special
Sydney Dental Veneer's Dental Crown Website Special: Save up to 30% off single-visit dental crowns!
Save up to 30% on your dental crown with Sydney Dental Veneers promotional website special. Prices start from just $1190 inclusive of a 5 year limited warranty!**
Call Us Today: (02) 8090 1105 or e-mail info@sydneydentalveneer.com.au or visit us at 302/70 Pitt St, Sydney NSW 2000.
Our dentists can provide you with a crown in a single appointment using the latest in CAD/CAM technology, saving you time and money. These are high quality as they are designed and made in-house by our dentists and come in two material varieties: ceramic or Emax porcelain. This offer only applies to CAD/CAM crowns, and excludes implant crowns.
Our crowns come in four different material types, your dentist will be able to advise upon consultation as to which would be most suitable for you depending on your specific anatomy and lifestyle.  Most ceramic and Emax crowns can be milled in-practice on our Cerec machine however, harder material -type crowns like the zirconia blend and porcelain fused to metal require additional sintering must be outsourced to our laboratory, requiring two separate appointments to complete the treatment.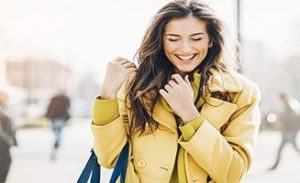 Please find listed below the dental crown materials available and their key characteristics:
GC Cerasmart/Vita Enamic Hybrid Ceramic Crown – $1,190
– 1 visit only
– Good for teeth with minimal biting force.
– Additional aesthetic characterisations available for $50
Ivoclar Vivadent Emax Ceramic Crown – $1,290
– 1 or 2 visits required – advised on consultation
– Higher strength and durability than ceramic; suitable for those who have a heavy bight or grind their teeth
– Additional aesthetic customisations with layering and staining available for $100
Zirconia Ceramic Crown – $1,450
– 2 visits necessary, as requires laboratory work
– Strongest of dental ceramics, suitable where strength is crucial, particularly for patients who grind heavily
Porcelain-fused Metal Crown – $1,450
– 2 visits necessary, as requires laboratory work
– Metal portion provides high strength support and protection
– Porcelain masks the metal backing giving great aesthetic likeness to a natural tooth
*Note: Conditions apply to this offer, and subject to change without notice.  You are required to refer to this special when booking the appointment.
**5 years Limited Warranty key conditions: Warranty availability is limited to cracks and fractures, or failure of cement leading to loss of the crown. This warranty does not extend to crown failure resulting from decay, fractures in root, root canal therapy failure, or gum infection due to poor oral hygiene. These problems can be evaded by the patient if they present for regular dental examinations every 6 months.
Call Us Today: 8090 1105 or e-mail info@sydneydentalveneer.com.au or visit us at 302/70 Pitt St, Sydney NSW 2000.
St Mary's Cathedral at St Marys Rd going to Sydney Dental Veneers will only take about 5 minute drive. Head northwest on St Marys Rd and right onto Prince Albert Rd. Use the right 2 lanes to turn right onto Macquarie St then left onto Hunter St and another left onto Pitt St.